Some Story Examples
My sister and her husband had returned to Michigan by then, and each day and night I continued to take, and get, more and more photos of orbs inside the house and out, daytime and nighttime. I was so excited! I had stepped out onto the road of a whole new part of my journey, one that I could never have imagined would happen to me.
* Click thumbnail to enlarge.
My husband (of 47 years now), Richard, pouring coffee in our kitchen one morning,
a bright, sparkling orb in the foreground in our family room in early March 2008.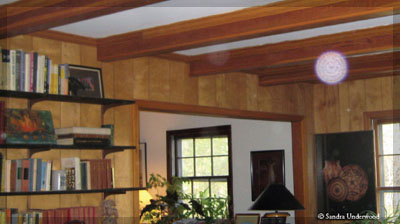 * Click thumbnail to enlarge.
In this second photo, especially, when the orb is enlarged and covers the entire computer screen, one can see a lovely blue corona surrounding it. Lots of energy! I've also included a close-up of this one so you can see it.
* Click thumbnail to enlarge.
When I first moved outside to begin photographing—at twilight—I got the first tiny orb right above my window where I'd seen them in 1996.
Soon thereafter, I was quite astounded to begin getting gorgeous colored orbs. One of my favorites appeared next to the big pine tree close to Eric's tree. I've called this orb, "Golden"—so beautiful with its mandala pattern of concentric circles and its beautiful golden color . . . but most especially its size.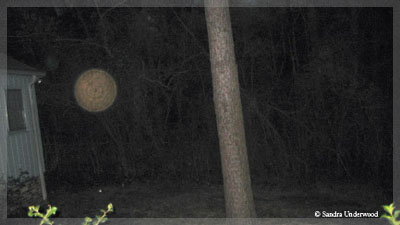 * Click thumbnail to enlarge.
I measured the back window it appears next to and the window measures more than 40 inches long. The Golden orb was not only magnificently beautiful, it was huge!